In January 2017, Michael St Pierre (mytek) embarked on the project he'd been contemplating for two years: a completely redesigned Atari 8-bit motherboard, with an Mini-ITX form factor and using the original VLSI chips. After only nine months of gestation, the fully debugged version 1.1 boards arrived.
From the outset, the 1088XEL was built around the TK-II, Mousetari, UAV and Ultimate 1MB. Having already seen and used my alternative Ultimate 1MB firmware, Michael soon invited me to become involved in the 1088XEL testing process and asked if I could customise the BIOS in order to support the new motherboard's unique features. Of course, the new firmware's plug-in architecture made the creation of a drop-in 1088XEL module easy, although as time went on, a few modifications to the base code were also made.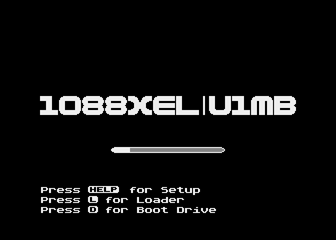 Eventually, customised versions of the U1MB main BIOS, PBI BIOS and XEX loader were developed for the 1088XEL. Some changes – such as support for dual physical disks (used with the XEL-CF adapter) – proved highly challenging, but by the close of 2017, the new firmware was taking shape, although bug fixing and further development of the 1088XEL continued until April 2018. As the firmware neared completion. the task of updating the user manual and technical documentation began. By the beginning of June 2018, everything was finally completed.
In July 2018, Michael tabled the idea of another new Atari 8-bit motherboard, this time to be housed in a 1050 disk drive case. The result was the 1088XLD.
The 1088XEL and 1088XLD share almost identical Ultimate 1MB firmware, aside from the branding of the main BIOS. You should download the firmware which corresponds to your hardware.
New to Version 3.10
Even faster search speeds in loader
Keyboard and joystick acceleration in loader allows faster navigation of long directories
File extensions on scrolling FAT filenames now remain visible even when highlighted
Loader SD/CF adapter issues fixed
XF551 now driven at full speed by HSIO driver
ATR swap button now works in loader
Improved DCB checking in PBI BIOS and support for immediate-mode sector IO
Improved boot drive handling
New to Version 3
Among the numerous improvements in version 3 of the firmware:
Number of BIOS configuration profiles increased from three to four
Massively faster and more powerful loader search facility
Loader's built-in FAT DOS now supports subdirectories
Loader now remembers the last accessed FAT folder
Loader scripts may include paths
Loader can now open the location of any already mounted image
Usability improvements to the loader and BIOS setup menu
Optional synthetic 'IO sound' with ATRs and hard disk partitions
Improved loader compatibility
Auto-booting banked cartridge conversions on SIDE/SIDE2
All hardware-specific HDD functionality moved to plugins
Several important bug fixes
Firmware Download
1088XEL U1MB Firmware version 3.10 (April 2020)
1088XLD U1MB Firmware version 3.10 (April 2020)
If you wish your existing configuration profiles to be preserved, be sure to select profile 1 before updating the firmware.
Important: Owners of Ultimate 1MB with the original v.1 CPLD code from Candle's first run of boards must ensure that they update to the current JED prior to installing the new BIOS, otherwise they risk bricking the device. Boards with the PBI feature (including all manufactured by Lotharek and those from Candle's second run) will safely run the new BIOS without modification. If your U1MB has a white PCB, it is guaranteed to be compatible with the new firmware.
Toolkit
Be sure to download the toolkit ATR which includes several utilities and drivers not included in the SDX ROMs:
User Manual
The User Manual contains installation instructions and usage notes for the Main BIOS setup utility and XEL Loader:
Loader Quick Reference
Technical Documentation
Plugin Source Code
To complement the Technical Documentation, you can also download the source code for the U1MB BIOS plugins:
Previous Versions
1088XEL Links
To learn more about the 1088XEL and 1088XLD projects, please visit the
1088XEL home page
and the
1088XLD home page
, where you'll find links to schematics, Gerbers, PIC firmware, and documentation.
As well as the 1088XEL and XEL-CF, Michael offers many other interesting projects at AtariBits.
If you'd like to purchase 1088XEL in ready-built or kit form, you can find ordering instructions at The Brewing Academy.

Licensing and Donations
While the firmware is free at the point of delivery for personal use, if it is to be included on commercially sold devices, the firmware is subject to a licensing fee which should be arranged with the author in advance. Developers interested in customised versions of the firmware tailored to their particular hardware should contact the author.
In light of the fact that firmware licensing revenue is modest and that updates are offered for free to the end user, donations are welcomed and appreciated. Indeed, it has been my mission to facilitate easy and safe firmware updates, and regular in-the-field upgrades are encouraged to ensure that devices remain up to date and bug fixes are delivered in a timely manner.
Thank you!